Motocaddy M5 GPS DHC Electric Trolley
M5 GPS DHC Electric Trolley
Power at your fingertips
The award-winning M5 GPS DHC offers fully‑integrated GPS built into a super-responsive 3.5" touchscreen display. Boasting 40,000 pre-loaded courses with distances to the front, middle, and back of the green, essential hazard information, and the ability to dynamically move the flag position, the M5 GPS DHC is the pinnacle of electric golf trolley technology.
The M5 GPS DHC is also packed with other game-enhancing features including a clock, round timer, and score tracking, plus the par and stroke index of each hole, shot distance measurement, automatic hole advancement, and a battery meter.
Life-saving capability
Offering the potential to save lives, the M5 GPS DHC can also indicate the availability and location of on-course AEDs and provide golfers with CPR instructions to administer to anyone suffering a cardiac arrest. The feature has been proudly supported by Heart Research UK, with over 700 golf clubs across the UK now registered.
Smart Connectivity
The M5 GPS DHC can also be connected via Bluetooth to the free Motocaddy GPS app to offer a wide range of smartphone notifications including missed calls, texts, emails, and a range of app alerts, including WhatsApp and Facebook. In another industry first, the trolley also offers built-in WiFi for super-fast Over‑the‑Air course and system updates.
Downhill Control Technology
Established over a decade ago, Downhill Control (DHC) has undergone extensive development and refinement since its creation. The game-changing technology is now considered an essential feature for thousands of golfers across the globe.
DHC ensures the trolley maintains a constant speed while moving down a gradient, helping golfers stay in complete control around even the most undulating golf courses. The award-winning feature is now bolstered by the integration of all-terrain wheels and an electronic parking brake, perfect for planting the trolley on an uphill or downhill slope.
Features
Automatic Downhill Control
Allows the trolley to maintain a constant speed when moving down a gradient
Electronic parking brake
Keeps the trolley stationary on slopes & undulations
All terrain DHC wheels
With anti-skid tread to tackle all types of ground with ease
High resolution 3.5" LCD touchscreen display
Crystal clear & ultra-responsive in all weather conditions
Fully integrated, high-performance GPS
Convenient, accurate, & removes the need for external GPS devices
40,000 pre‑loaded courses ‑ no subscription fee
Automatically finds local courses in seconds
Front, middle & back of green distances, plus hazards
Quickly access all the information you need to plan your next shot
Cellular-Enabled – upgrade with 6-month FREE trial
Compatibility with new cellular subscription packages offering real-time data access & enhanced GPS functionality – LEARN MORE
Dynamic green view
Green map updates to display shape of hole being played
Drag & drop pin positioning
Move the on-screen flag position for accurate shot planning
Smartphone notifications (calls, texts, emails & apps)*
Optional alerts keep golfers updated with life off the course
Score tracking
Handy on-screen scorecard helps golfers track their round
Shot distance measurement
Provides golfers with valuable distance data
On-Course AED locator & CPR instructions**
Quick-access to location of on-course defibrillators & easy-to-follow CPR instructions
WiFi or cellular+ powered, Over‑the‑Air updates
Easy, super-fast course & system updates
Simple, compact-folding system
Award-winning M-Series folding technology fits into the smallest car boots
Next generation, High Power 28V system
More powerful, efficient, & reliable than ever before
Slimline ambidextrous sporty wheels
Stylish design that is light, strong, & easy to attach
Nine-speed settings, Speed indicator & Battery meter
Stay in complete control with a quick glance at the handle display
Clock & Round timer
Helps keep golfers on track with the pace of play during a round
Adjustable Distance Control (up to 60 yards)
Set the trolley to travel a selected distance in 5-yard increments
USB charging port
Ideal for charging any USB powered device while you play
Super‑lightweight, waterproof Lithium battery
IP66 water & dust rating for complete protection against the elements
On board battery charging
No need to remove the battery for storage, transportation & charging
Oversize tubing for ultimate handle stability
Thicker frame profile combines with top quality materials for unrivalled performance
Space-saving inverting wheels
Flip the wheels to fit into the tightest spaces
Convenient auto-open stand
Allows the trolley to stand upright for minimised folded footprint
Simple, fully-adjustable handle height
Ensures the trolley is optimised for golfers of every height
Powerful, whisper‑quiet 230W motor
Quiet, exceptional performance with power when you need it
EASILOCK™ compatible
Securely attach your Motocaddy golf bag without a lower bag strap
*Compatible smartphone with app required **Geographical restrictions +Subject to active subscription
Specifications
| | |
| --- | --- |
| WEIGHT: | 11.20kgs |
| DIMENSIONS: | 650mm (L) x 470mm (W) x 410mm (H) |
| MOTOR: | 230w DHC |
| VOLTAGE: | 28V |
| MATERIAL: | Aluminium |
| WARRANTY LENGTH: | 24 months |
| COLOUR OPTIONS: | Graphite |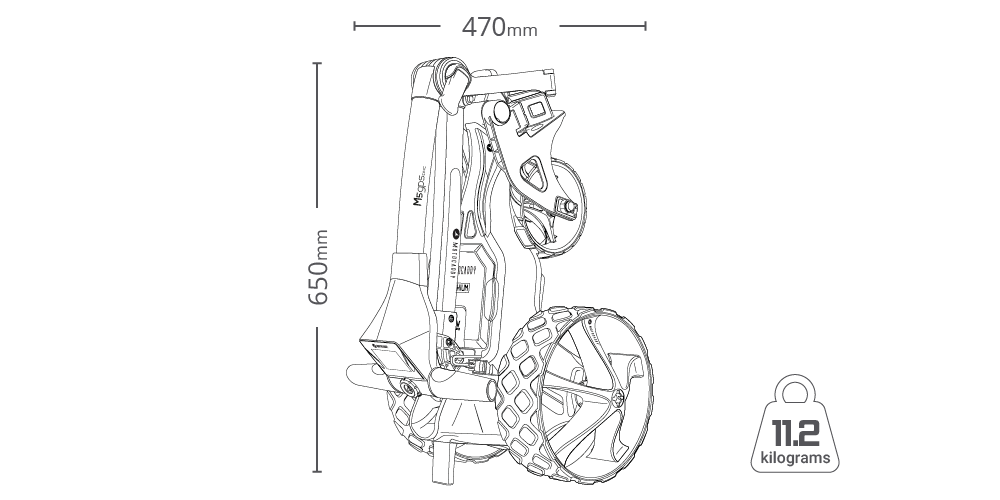 1 in stock
Only logged in customers who have purchased this product may leave a review.